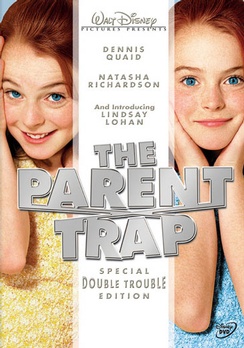 The Parent Trap is a 1998 family comedy film co-written and directed by Nancy Meyers, and produced and co-written by Charles Shyer. It is a remake of the 1961 film of the same name and an adaptation of Erich Kästner's German novel Lottie and Lisa (Das doppelte Lottchen).
Dennis Quaid and Natasha Richardson star as a couple who divorce soon after having identical twin daughters; Lindsay Lohan stars (in her film debut) as both twins, Hallie Parker and Annie James, who are accidentally reunited at summer camp after being separated at birth. David Swift wrote the screenplay for the original 1961 film based on Lottie and Lisa. The story is comparable to that of the 1936 Deanna Durbin film Three Smart Girls.[4] Swift is credited along with Meyers and Shyer as co-writers of the 1998 version. The film received positive reviews.
Ad blocker interference detected!
Wikia is a free-to-use site that makes money from advertising. We have a modified experience for viewers using ad blockers

Wikia is not accessible if you've made further modifications. Remove the custom ad blocker rule(s) and the page will load as expected.