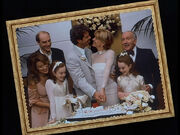 The Parkers are Hallie and Nick, they both were joined by Annie and Elizabeth in the end of the movie.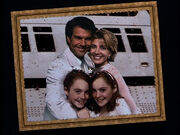 Here is a gallery showing this family.
Families/Parents:
Nick Parker
Elizabeth "James" Parker
Chessy
Martin

Daughters:
Hallie
Annie

Work/Careers
Nick works on a wine farm and makes wine glasses in Napa, California. While Elizabeth works in a wedding studio in London and designs gowns and organizes wedding events.
What about Hallie and Annie???
Hallie and Annie are a bit young to do work; but in the movie we see them work with their parents. Annie works in the wedding studio with Elizabeth and Hallie does wine-farming with Nick. But mostly they're too young to work full-time.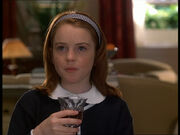 Pages in category "The Parker family"
This category contains only the following page.
Ad blocker interference detected!
Wikia is a free-to-use site that makes money from advertising. We have a modified experience for viewers using ad blockers

Wikia is not accessible if you've made further modifications. Remove the custom ad blocker rule(s) and the page will load as expected.