Annie James is the twin sister to Hallie Parker. She is also 11 years old, she comes from London, England. Annie has the same character to Hallie Parker (Lindsay Lohan).
Edit
Five (5) Interesting Facts
Edit
Long (Then short) red hair (Some times tired up)
Average height
British accent
Likes Oreos with Peanut Butter (Hallie also)
Plays Poker (Hallie also)
           Annie James          [1]  (Press the 1 To see a Picture of Annie James)                                         Edit
Full Name: Anne "Annie Elizebath James                                                             
Edit
Age: 11 yrs old  
D.O.B (Date Of Birth): October 11th, 1986 
Home : London, England (Now lives in Napa, Califonia with Hallie and Nicklaus)
Family: Nicklaus Parker (Father)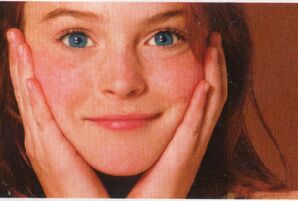 Elizabeth James (Mother)

Hallie Parker (Twin Sister)

Charles James (Grandfather)
Freinds: Martin  (Annies Butler)

Chessy (Hallies Housekeeper)

Friends at Camp Walden  (Lindsey and Jackie)
Pets: Sammy (Dog)
Portayed By: Lindsay Lohan
Annie's gallery
Edit
Subcategories
This category has the following 5 subcategories, out of 5 total.
A
D
H
Q
T
Pages in category "Annie James"
This category contains only the following page.
Ad blocker interference detected!
Wikia is a free-to-use site that makes money from advertising. We have a modified experience for viewers using ad blockers

Wikia is not accessible if you've made further modifications. Remove the custom ad blocker rule(s) and the page will load as expected.